Fleet management software solution
Solution purpose:
Supervising a large fleet along with numerous maintenance services required to ensure compliance and uptime is very challenging, especially when it comes to tracking rentability and developing financial plans.
Our solution is designed to coordinate fleet accountability by automating scheduling and overseeing all the actions needed to keep your vehicles profitable and in good condition at all times.
1. Asset management dashboard
2. Maintenance management and reporting
3. Expenses Tracking and optimization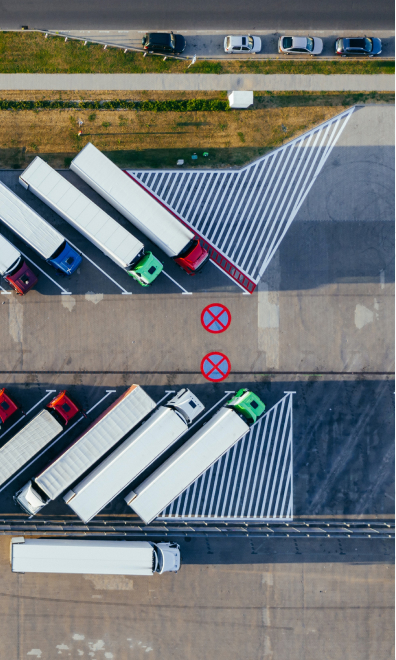 Key features
Asset management
Vehicle Asset Management – Keep and manage the entire database of your vehicles classified by criteria, along with their complete maintenance history including all previous services, inspections, accidents, and assigned drivers. Always have a clear overview of the current technical condition of the entire fleet and schedule the upcoming maintenance tasks.
Preventive Maintenance Scheduling – Keep a record of regular maintenance tasks and get them automatically scheduled as soon as a vehicle runs for a certain period of time or travels a certain distance since the previous service, thus avoiding unexpected repairs that might disrupt the execution of other processes.
Onsite Inspection – Schedule vehicle compliance checks and notify their drivers about the inspection dates. Each vehicle fleet checklist can be customized to its specific verification criteria.
Maintenance orders and issue management – Get vehicle issue reports as soon as possible. Plan, schedule, and complete specific fleet maintenance orders while being able to track the whole process.
Reports
Operational costs – Keep an expense history and identify recurring spending. It will give you an overview of the maintenance costs of your entire fleet, specific vehicle groups, or particular vehicles.
This way you will be able to optimize your allocations and estimate financial forecasts.
Control expenses – Track all of your expenses, from maintenance and depreciation to everyday fuel consumption. Easily identify the not cost-effective vehicles and make data-driven decisions regarding their de-fleet.
Fleet Compliance – Monitor whether everyone conducts the required compliance and safety checks and make sure the vehicles are inspected regularly.
Automation and sync
GPS & Telematics – Connect GPS equipment to vehicles and automatically collect telematics data like odometer readings to trigger maintenance reminders, track vehicle location, and receive overspeed or fuel consumption alerts
Fuel Card Integration – Automatically import fuel card transaction reports into the system, determine the total fuel cost of your fleet, and evaluate its usage efficiency.
Our Solution's main benefits:
Syncs with you existing
software environment
Scalable features at your request
On-site Deployment
(no subscription fees)
Integration approach:
1. Cost-free Analysis
Define specific business goals in your company's operations
2. Customization
We make sure that our product is fully adapted to the existing workflow and is ready to meet your expectations
3. Integration
Sync with your existing software environment
4. Training
To get the most out of our solution, we provide face-to-face training with your staff and management teams
Related software products: