Order collection and dispatch solution
Solution purpose:
A solution designed to speed up the order picking and packing operations with built-in scanning features, preventing items dispatch errors.
Platform features:
Delivering orders with impeccable accuracy in a short timeframe while conserving logistics resources can be very challenging. This is where our tool comes to guide through the stages of order picking and dispatching, reducing the rate of errors and misunderstandings within the teams.
1. Automate the workflow of requests for collecting orders and their dispatch
2. Error-free picking and packing operations
3. Get a snapshot of your inventory and order fulfillment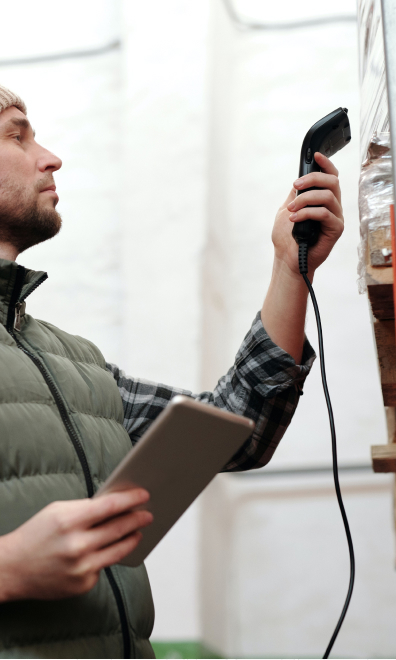 Key features
Prepare orders for dispatch
Receipt and shipping labels – Issue order receipts based on the quantity or the weight of collected products right from the app.
Workflow automation – Once an order has been processed, the order task status will change automatically to the delivery stage for further tracking.
Delivery team – Speed up your delivery workflow with automatically assigned delivery tasks and order shipment details.
Order picking operations
Task management – Once an order is confirmed, automatically generate location-based tasks so that warehouse staff can immediately proceed to collect the orders, avoiding time-consuming communication.
Paperless picking – The built-in barcode scanner feature makes it easy to accurately pick orders according to every request.
Shipped-in stocks – Incoming products can be immediately processed and assigned to their location within the app. Both the products and their location can be found directly in your inventory management system.
Inventory management
Inventory Management and Inventory Lists
Updating stock and adjusting wrong stock levels can be done directly on-site from within the app.
Get a snapshot of your inventory – Easily perform accurate warehouse inventory, track and monitor the physical location of goods.
Track goods shipped in and shipped out – Get a detailed history of all inventory operations across different store locations.
Our Solution's main benefits
Syncs with you existing
software environment
Scalable features at your request
Compatible with third-party
scanning devices
On-site Deployment
(no subscription fees)
Integration approach:
Cost-free Analysis
Define specific business goals in your company's operations
Customization
We make sure that our product is fully adapted to the existing workflow and is ready to meet your expectations
Integration
Sync with your existing software environment
Training
To get the most out of our solution, we provide face-to-face training with your staff and management teams
Related software products: