Last-mile, order delivery software solution
Solution purpose:
Keeping in mind the importance of last-mile delivery performance for the total order processing time, our solution aims to minimize loading and shipment scheduling operations time, thus letting your team proceed to the delivery itself as soon as possible. Our solution will eliminate time-consuming internal communication and interaction, by automatically notifying drivers about new orders and generating an efficient route that covers all delivery destinations, along with specific information regarding the shipped goods or particular customer requirements.
• Empower your delivery team
Provide your delivery team with a mobile tool that will help them accurately execute the workflow preset.
• Delight customers
Let customers know when their parcel has been dispatched and when they should expect its arrival.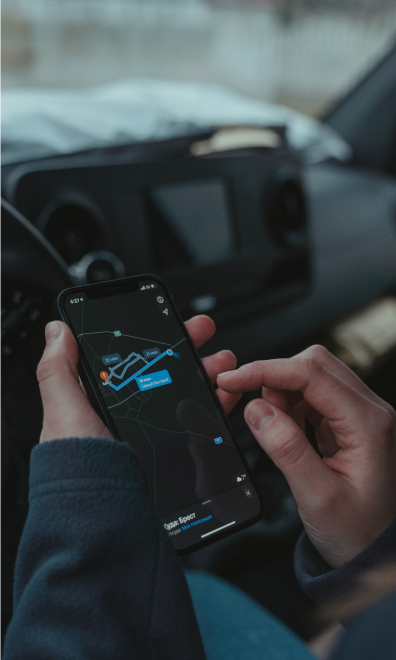 Key features
Empower your delivery team
Task management – Automatic assignation of delivery tasks to drivers according to their location, warehouse and destination
Alerts – Ensure drivers receive order notifications and confirm them as soon as possible.
Order collecting – Provide drivers with a simplified and error-free process of collecting goods from the warehouse according to the order list.
Routes – Get the most effective routing solutions and reduce the time of deliveries.
Shipment Details – Provide drivers with detailed order information regarding delivery priority, storage conditions, or specific customer preferences.
Track records – Instantly report issues and log cash payments.
Track your delivery team progress:
Location Tracking – See the real-time location of your drivers.
Order Tracking – Monitor order and delivery progress through stages and locations.
Order Reports – Preview reports and history of delivered orders.
Team Metrics – Get insights into each driver's performance by their route choice, amount of delivered orders, traveled distance and success rates.
Delight customers
Status Updates – Keep your customers informed about the progress of their orders and their estimated arrival time.
Location – Let customers track the driver's location on a map.
Feedback – Get the first-hand report of each customer's experience after the delivery.
Predictive ETA – When knowing the current location of the deliveryman is no longer enough, stay proactive and provide your customers with predictive arrival times and real-time alerts.
Our Solution's main benefits:
Syncs with you existing
software environment
Scalable features at your request
Compatible with any
Android OS device
On-site Deployment
(no subscription fees)
Integration approach:
1. Cost-free Analysis
Define specific business goals in your company's operations
2. Customization
We make sure that our product is fully adapted to the existing workflow and is ready to meet your expectations
3. Integration
Sync with your existing software environment
4. Training
To get the most out of our solution, we provide face-to-face training with your staff and management teams
Related software products: